Euroarce plant in Onda, Castellón (Spain) is since 1995 the main processing center in Euroarce raw materials.
The plant, located in the heart of Castellón tile triangle, has a covered storage for more than 50,000 tons of all kinds of raw materials for ceramics, many of them from our own mines.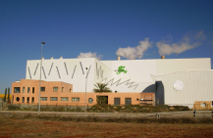 Modern facilities that allow us to mix wash, grind both dry and wet, spraying and bagging all kinds of raw materials, mainly aimed at products for the ceramics sector flat:
- Preparation of pasta cooking sprays white coating, stoneware and porcelain.
- Milling and packaging of feldspar, quartz and sand for pasta, chips and ceramic glazes.
- Mixtures of kaolin clay and bulk and packaged pasta, slips and glazes.
Oriented controls on quality regularly performed in a laboratory that has a large pilot plant for industrial-scale test any product.