The main deposits of clay which has Euroarce are located in the Iberian Range, in the Aragon region called the province of Teruel (Spain). We work in different quarries, all located within a radius of few kilometers from the floor, each offering materials with different characteristics:
- White, sandy clays and Codoñera Gargallo, low in iron and organic matter.
- Plastics extrusion optimal Oliete
- Products Santolea very balanced, present in numerous formulations and sanitary porcelain.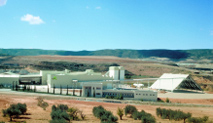 The mechanical work is always the same in the different sites. In each of them are produced according to the different qualities that serve as stockpiles ceramic intermediate tanks. With these materials are appropriate to the formulation, by mixing and grinding to obtain post-homogeneous clay.
In some cases, the best clay moved to a plant that are wet refined to achieve a level of uniformity impossible to obtain in the untreated clay. This allows us access to more demanding markets, such as those of slip, glaze or health.
Ariño Euroarce also has a kiln which produce chamotte ceramic intended for different uses.