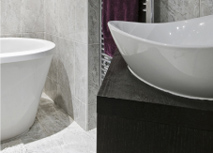 Euroarce feldspar is obtained after a differential flotation process, deironing and washing to give it great homogeneity.
A typical chemical analysis is:
K2O 10,6%
Na2O 2,4%
Fe2O3 0,13%
TiO2 0,01%
The product can be supplied between 100µ and 600µ or ground to 45µ, 63µ and 75µ depending on demand..
The main applications for sanitaryware are:
1. Sanitaryware bodies (Vitreous China)
a. Gives the body a wider range of cooking, reducing potential problems of deformation.
b. It passes through a special washing process to pevent foaming and rheological problems.
2. Glazes:
a. Its high stability, as a result of being an industrial product, makes it particularly suitable for these applications.
b. Also for these applications it is essential the wasing process that avoids rheological problems.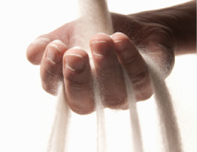 The range of products for the sanitaryware products include: